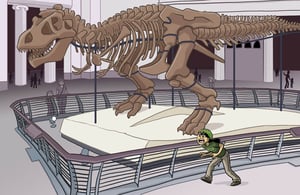 $

15.00
Something terrifying stalks the natural history museum. It is the mighty Dina! She and "Sue" the T.rex come gloriously printed on 11x17" cardstock paper, mailed to you in a cardboard envelope.
And let's try a wallpaper version, why not. I've got a version for you that's 1366x887, suitable for cropping or shrinking or whatevs. (Apparently 1366x768 is the new most popular web-browsing monitor resolution.) I thought about cropping it vertically myself, but figgered I'd instead let you folks have the whole image and retool it to your own needs.
(Since I can't turn off shipping for the wallpaper, I've taken the cost of the shipping out of the price of the wallpaper option. Which means there are two wallpaper options now, one for the United States ($3 + $5 shipping) and one for everywhere else ($.01 + $8.) It's not elegant, but it works?)
If you want both the poster and the wallpaper, buy the poster and let me know you want the wallpaper, too. No extra charge!